Student Leadership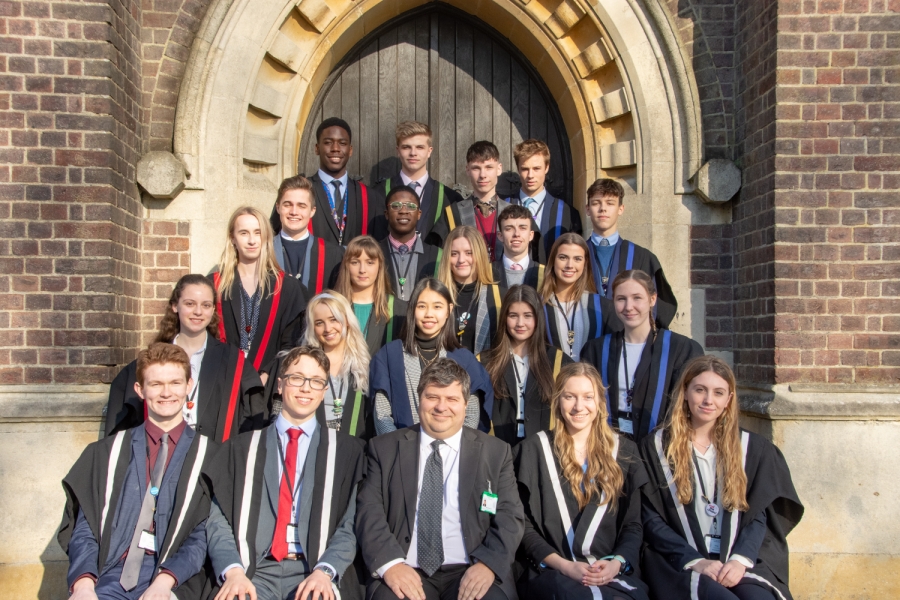 Only a relative handful of our students receive the rewards of leadership. St George's has such a high calibre intake of prospective leaders and highly responsible students that selecting a few for "Prefectship" or House or School Captain, is always a tough decision, inevitably leaving perfectly able students disappointed at their lack of appointment.
New to St George's? Do not despair at gaining status! Annually, many new Georgians have been made Prefects, House Captains, School Captains or Deputy School Captains, Boarding Prefects or Boarding Captains! Be pro-active, join in!
The roles comprise of:
School Captains
The School Captains represent the Headmistress and her deputies in a range of ways. This may include making speeches at Open Evening, giving votes of thanks to visitors, reading in Chapel, delivering Assemblies, representing the Headmistress or the student body and organising whole School events, such as Education for Africa Day.
School Captains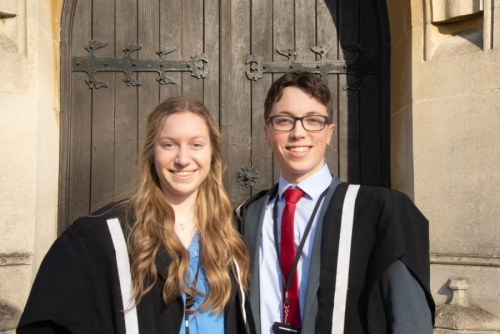 Hello, my name is Sophia and I feel very honoured to be one of the School Captains here at St George's. I am studying English Literature, History and Politics with the hope of going on to study History at university. I love contributing to the St George's community by representing the school in cross country races, athletics competitions, captaining the Seconds Senior Lacrosse Team and even taking part in the odd debate. I also enjoy representing Goddard House by playing the flute in House Music and getting involved with many other House events! I'm very much looking forward to working with the Executive Team in this coming year to encourage our whole community to "Aim Higher" and further involve themselves with all aspects of school life.
Hello, my name is Jean-Emmanuel and I am honoured to be part of the Executive Team here at St George's as one of the School Captains. I am studying Maths, Further Maths, Economics and Chemistry at A-level, and for now, I aspire to read Economics at university. The school has not only given me an excellent education, but has also provided me with so many new opportunities, new experiences, new friendships, and an array of extra-curricular activities that I have thrown myself into without fail, from sports, to music and drama. Following in the footsteps of generations of previous School Captains, I am looking forward to working with the Senior Prefect Team, my fellow Georgians and the school leadership to represent and support the great community our school is, as together, we aim higher.
Deputy School Captains
The Deputy School Captains deputise for the School Captains and assist them in their roles. This may include organising the Charity Carol singing event, assisting with the organisation of the Senior Prefect Week of Fun, the Prefect Dinner and whole School student-led events.
Deputy School Captains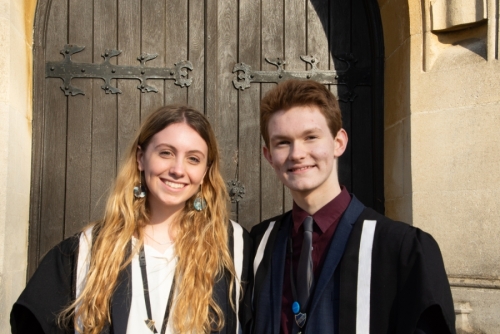 Hi, my name is Maddie, and I feel very fortunate to be able to call myself a Deputy School Captain here at St. George's. I am currently studying History, Government and Politics, and Geography, with an ambition to read History and Politics in the future at university. I thoroughly enjoy representing the School on the First-Team lacrosse pitch, getting a grilling in the Debate Society, and immersing myself in a whole range of House events, no matter how gruelling (cross country!). I am thrilled to be working with such a talented Executive and Senior Prefect Team, and over the coming year I hope to use all of the skills and passion we have available to further the community-orientated ethos of the school: that earned us the best comprehensive of the year!
Hi, my name is Ollie, and I have the privilege of being one of the two new Deputy School Captains here at St George's. I am currently studying Maths, Further Maths, Physics and naturally, the best subject, Geography, which I am hoping to study at university. Throughout my time at St George's I have had the had the honour of representing Monk House in a number of events, including Drama, Cross-Country (I could not possibly forget those painful experiences!), Chess and Swimming, as well as being a Core-Sub Prefect in the past. I could not be more excited to getting immersed in the upcoming year, with all the opportunities and challenges it may bring, and cannot wait to work with all of you!
Boarding Captains
Boarding Captains
Hello! Our names are Adam and Sonya, and we are the Boarding Captains for 2019/2020. We will be representing the Boarding House and Boarding as a whole. We plan to use our experience in Boarding to make it the best it can be. Individually we look forward to organising the Boarding events over the next year as well as hopefully making them something special to those who attend. On top of this we are excited to be working with the rest of the Senior Prefect Team and bringing Boarding and Day School closer together. Thank you.
House Captains
Linked to the Head of House, House Captains are the public face of the House. They assist the Head of House in a range of activities. This may include monitoring Prefect duties and the work of the responsibility system, undertaking book looks and Prep book checks, distributing School and House office materials, completing office administration information, helping to organise House Assembly with the Head of House and representing the House at School functions.
Goddard House Captains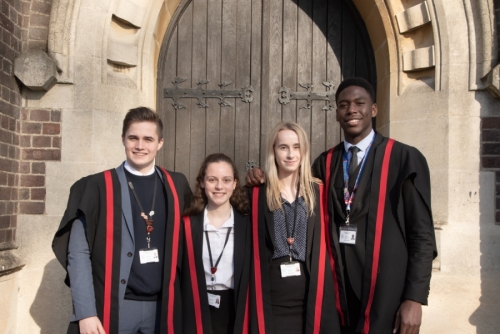 Valiant, brave, an outstanding role model: a few words that could be used to describe John Lister Goddard, whose past self-sacrifice paved the way for our future. As a team and a House, we have decided that - like him - we will be dedicated to giving our all to Goddard in order to valiantly seize back the Chapman Cup. We are your new House Captains – Max, Abbie, Matthew and Alice – and we are so thrilled to take on this role. By including everyone from Year 7 to Year 13 and putting in 100% effort into everything we do, we hope to lead this incredible House to victory, whilst having a whole lot of fun in the process!
Grant House Captains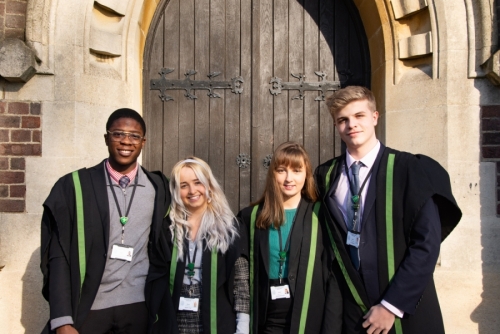 We are Joe, Sapphire, Mayowa and Emmanuelle and we are your Grant House Captains for 2019/2020. We are incredibly excited to be given this opportunity and this year, with the help of the Prefect Team, we aim to inspire the younger Grantonians and create a friendly and warming environment for all. Through hard work, team cooperation and determination, we hope to lead our House to victory! We aim to bring enjoyment and fun into the House, caring for every individual and continuing to promote Grant and St. Georges as the amazing community it is! We can't wait to get stuck into the joys of House events and would love to highlight the fact that every student has talent. We endeavour to bring out the best in each and every valuable member of the House, so let's hope this year is the year of the Gorilla and we bring the Chapman Cup home!
Monk House Captains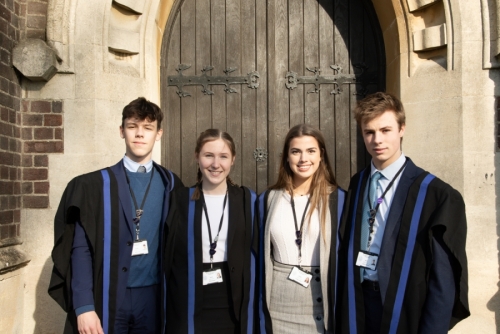 Hello! We are Callum, Henry, Meg and Indi – and we're proud to be your new Monk House Captains. We're a compact yet diverse team with numerous ideas, but as the 'black sheep' of the Houses, we are all taking turns at the roles of House and Deputy Captain for half a year, all endeavouring to implement our common plans and changes to better the community of the House and spurring our troop of Monkees on to thrive. We're looking forward to helping Monk retain our status as the unrefuted best House in the school… and keeping the Chapman Cup where it belongs.
We'll see you all in the coming year!
Watts House Captains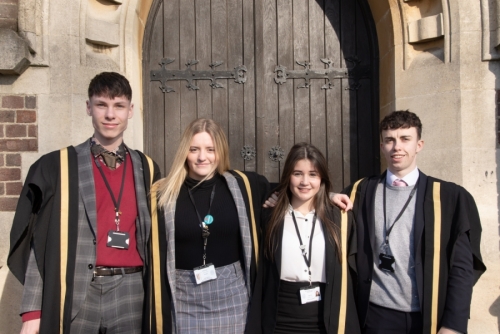 Hello! We are Louis, Liv, Ben and Fiona and we are excited to say that we are your House Captains for this year. We pride ourselves on our determination to motivate and encourage all Watts students, and we hope to achieve a House ethos that reflects ideals of Dr Watts: enthusiasm, loyalty and most of all, winning the Chapman Cup! As a team we work hard to ensure everyone's equal value is given recognition and by utilising our own unique strengths, we can overcome any challenge! We are thoroughly looking forward to working together this year and achieving greatness.
Deputy House Captains
Deputy House Captains deputise for the House Captains and will take on similar duties. They may also help to manage the House office preparing House lists, filing, assisting with typing, updating the House notice boards overseeing the organising of the locker system, taking minutes of meetings and a range of other tasks. House Captains and Deputy House Captains make up the House Senior Team.
Prefects
The Prefects are linked to the House Captains and Deputy House Captains. They carry out duties on behalf of the School, including lunch and break duties and School tours. Prefects head up a specific responsibility area: Social, Charity, Community, Publicity, Development, Promotions.
Sports Captains
Responsible for appointing teams for the House Sporting Competitions. They must also organise practices and ensure that teams play. They also encourage those in the younger years to get involved by giving them opportunities to be a part of House teams or be a part of the practices.
Drama Captains
Responsible for co-ordinating House Drama Competitions, for running a House Drama Club, overseeing the House directors during the House Drama Competition and organising drama for House Assemblies. They also encourage those in the younger years to get involved by giving them opportunities to be a part of drama events including House Assemblies.
Music Captains
Responsible for co-ordinating House Music Competitions, for running musical events and organising music for House Assemblies. They also encourage those in the younger years to get involved by giving them opportunities to be a part of music events including House Assemblies.