Student Leadership
Only a relative handful of our students receive the rewards of leadership. St George's has such a high calibre intake of prospective leaders and highly responsible students that selecting a few for "Prefectship" or House or School Captain, is always a tough decision, inevitably leaving perfectly able students disappointed at their lack of appointment.
New to St George's? Do not despair at gaining status! Annually, many new Georgians have been made Prefects, House Captains, School Captains or Deputy School Captains, Boarding Prefects or Boarding Captains! Be pro-active, join in!
The roles comprise of:
School Captains
The School Captains represent the Headmistress and her deputies in a range of ways. This may include making speeches at Open Evening, giving votes of thanks to visitors, reading in Chapel, delivering Assemblies, representing the Headmistress or the student body and organising whole School events, such as Education for Africa Day.
School Captains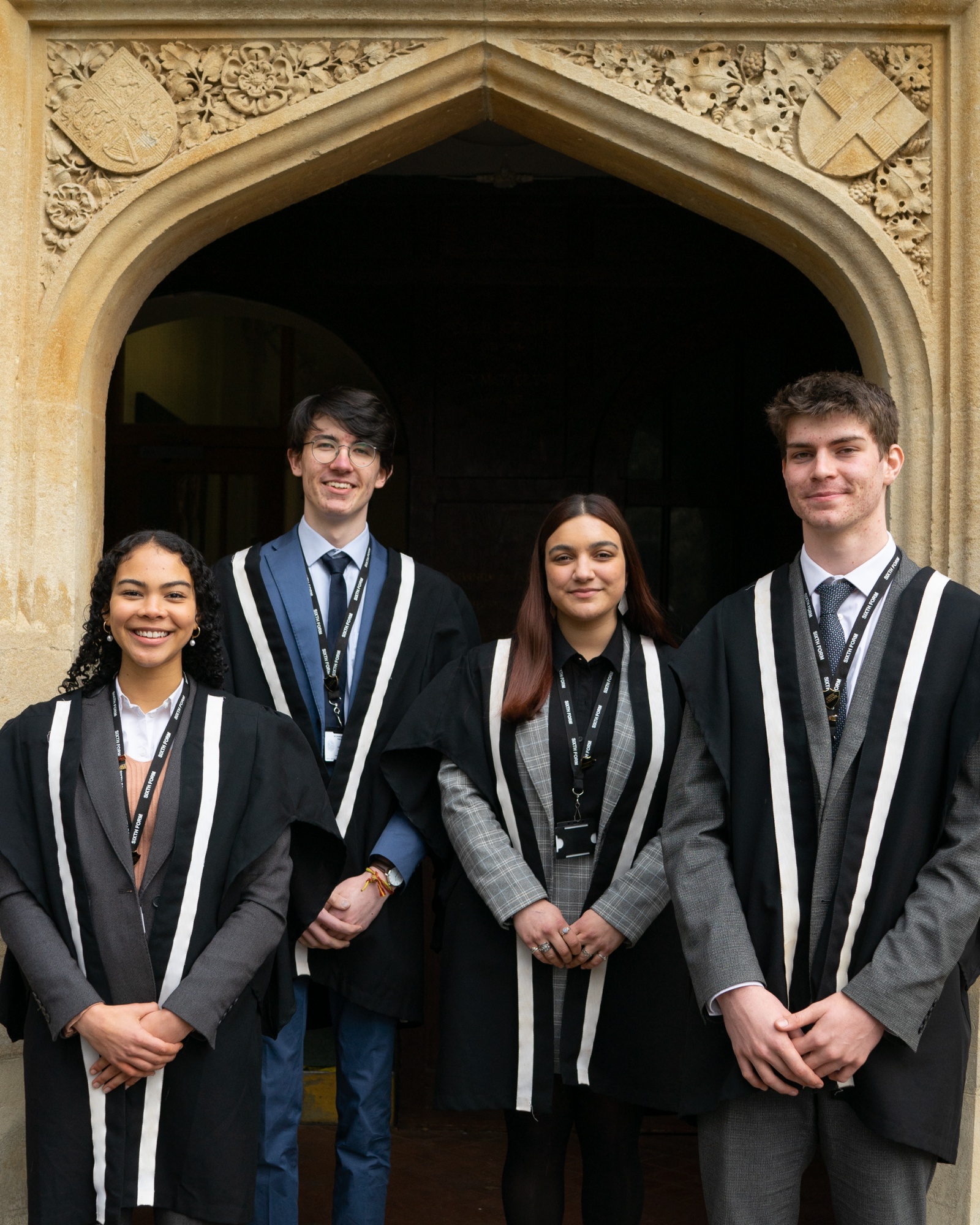 Isla
Hello, my name is Isla, and I am one of the four members of this year's School Captain team. Being chosen to assist in leading the school is a great privilege and I am looking forward to the realisation of our ambitions as Captains over the coming year. I am grateful to St George's for the lessons it has taught me thus far – not just academically, but lessons of teamwork, friendship and resilience. Students at St George's are unique in their talents and as Senior Prefect team, we are striving to continue the cultivation of a learning environment that celebrates diversity and allows all students to flourish. We hope to achieve this by increasing pupil engagement in the development of our learning and wellbeing initiatives, as well as providing new platforms for students of all ages to demonstrate leadership qualities. I look forward to the role I will play this year in creating a legacy that benefits Georgians to come.
Lucas
Hello, I am Lucas, one of the School Captains here at St George's School. I currently study Physics, Economics and Product Design at A-Level. I aspire to study Film at university after Sixth Form. Since joining in year 9, the last four years have been an incredibly enriching experience inside and outside the classroom. Throughout your time at St George's, there are many ways to get involved in activities that push you outside your comfort zone, including house events, charity fundraising and the leadership opportunities that led me to the role of School Captain. These activities have certainly helped my personal development and taught me a range of skills to take forward into life after school. It is a pleasure to work alongside Max, Maddy and Isla, and I hope our work can benefit the school for years to come.
Maddy
Hello, my name is Maddy, and I am one of the School Captains at St George's School. I am currently studying Geography, Government and Politics, and Biology with the hope of studying Geography and Sustainability at University. Since I joined in year 7, my experience here has never been short of amazing. Along with the incredible education that has enabled me to academically thrive, the opportunities provided have allowed me to grow as a person and develop skills that will continue to be of use to me throughout my life. These opportunities range from Sport (Lacrosse, Rugby, Netball...) to Music (House music or school choirs / orchestras) to House quiz, and by pushing myself out of my comfort zone to do these, I have become significantly more confident and willing to take on more challenges. I am so lucky to be working alongside such an amazing team, and am really looking forward to the year ahead and what we will achieve
Max
Hi my name is Max and I am one of the four school captains here at St George's. I currently study Maths, Economics and Politics here with the aspiration of studying Economics at University. The School provides so many ways for individuals to flourish and reach their potential- be that in sport, in the arts or academics- thankfully I have had the opportunity to develop a holistic view over my seven years here and that which has had the most profound impact on me has been the overwhelming sense of community characterised by our housing system which truly gives everyone a means to express themselves by being provided with countless opportunities for engagement. Just as the school has contributed to my personal development, I am excited for the new academic year where we as student leadership can contribute to the future development of St George's School and ensure it continues to be a place where students can 'Aim Higher'.
Boarding Captains
Boarding Captains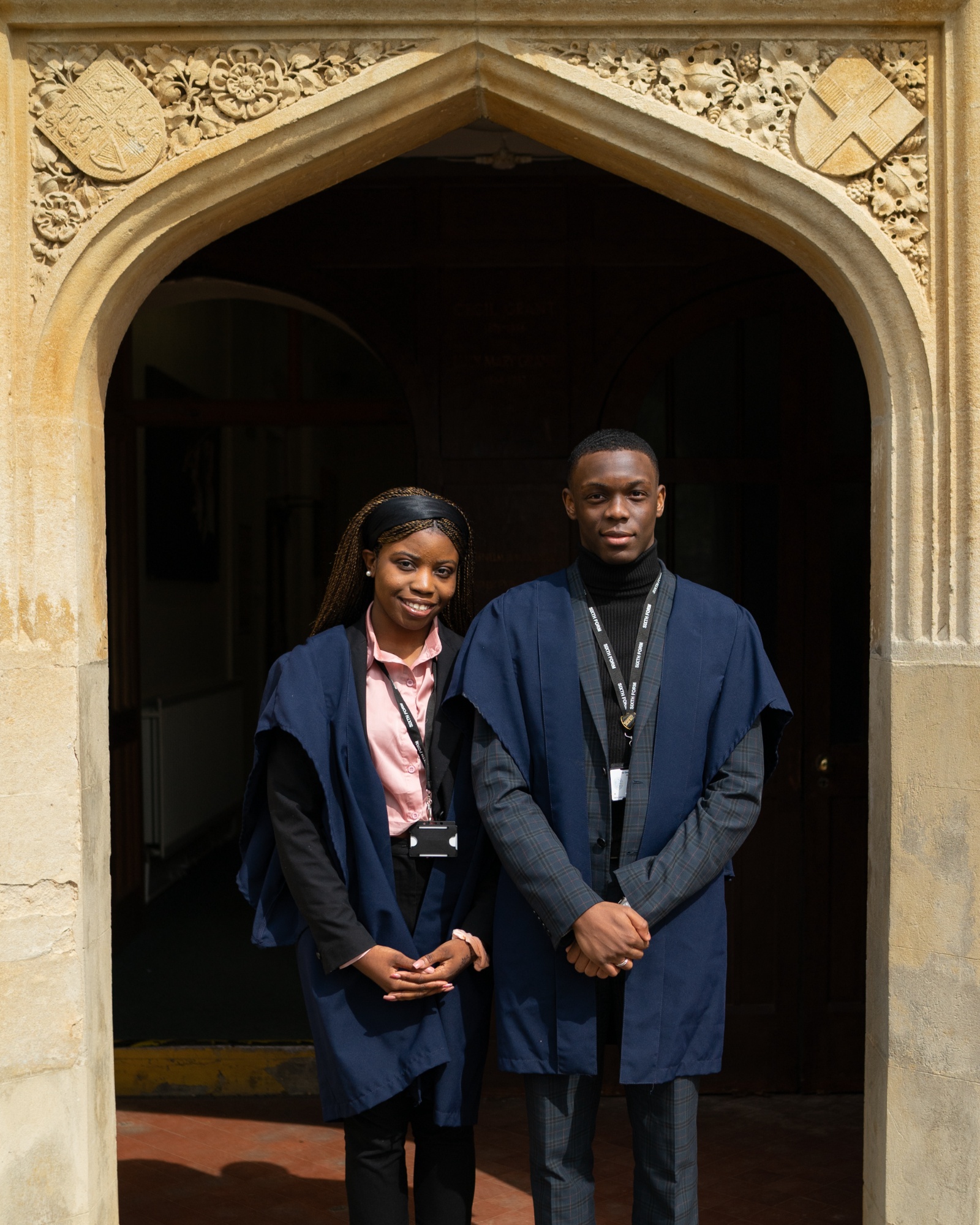 Hello! We are Angel and Agboola and we are your Boarding Captains for 2021/22. As the heads of the St. George's boarding community, our role is to make sure all boarders are getting the best boarding experience possible. The two of us and our team are looking forward to the coming year and all the exciting activities and events it may bring, and to once again bring the boarding community together after a whole year of social distancing and keeping in bubbles. We are thrilled to be your Boarding Captains and hope to make this year a very memorable one.
House Captains
Linked to the Head of House, House Captains are the public face of the House. They assist the Head of House in a range of activities. This may include monitoring Prefect duties and the work of the responsibility system, undertaking book looks and Prep book checks, distributing School and House office materials, completing office administration information, helping to organise House Assembly with the Head of House and representing the House at School functions.
Deputy House Captains deputise for the House Captains and will take on similar duties. They may also help to manage the House office preparing House lists, filing, assisting with typing, updating the House notice boards overseeing the organising of the locker system, taking minutes of meetings and a range of other tasks. House Captains and Deputy House Captains make up the House Senior Team
Monk House Captains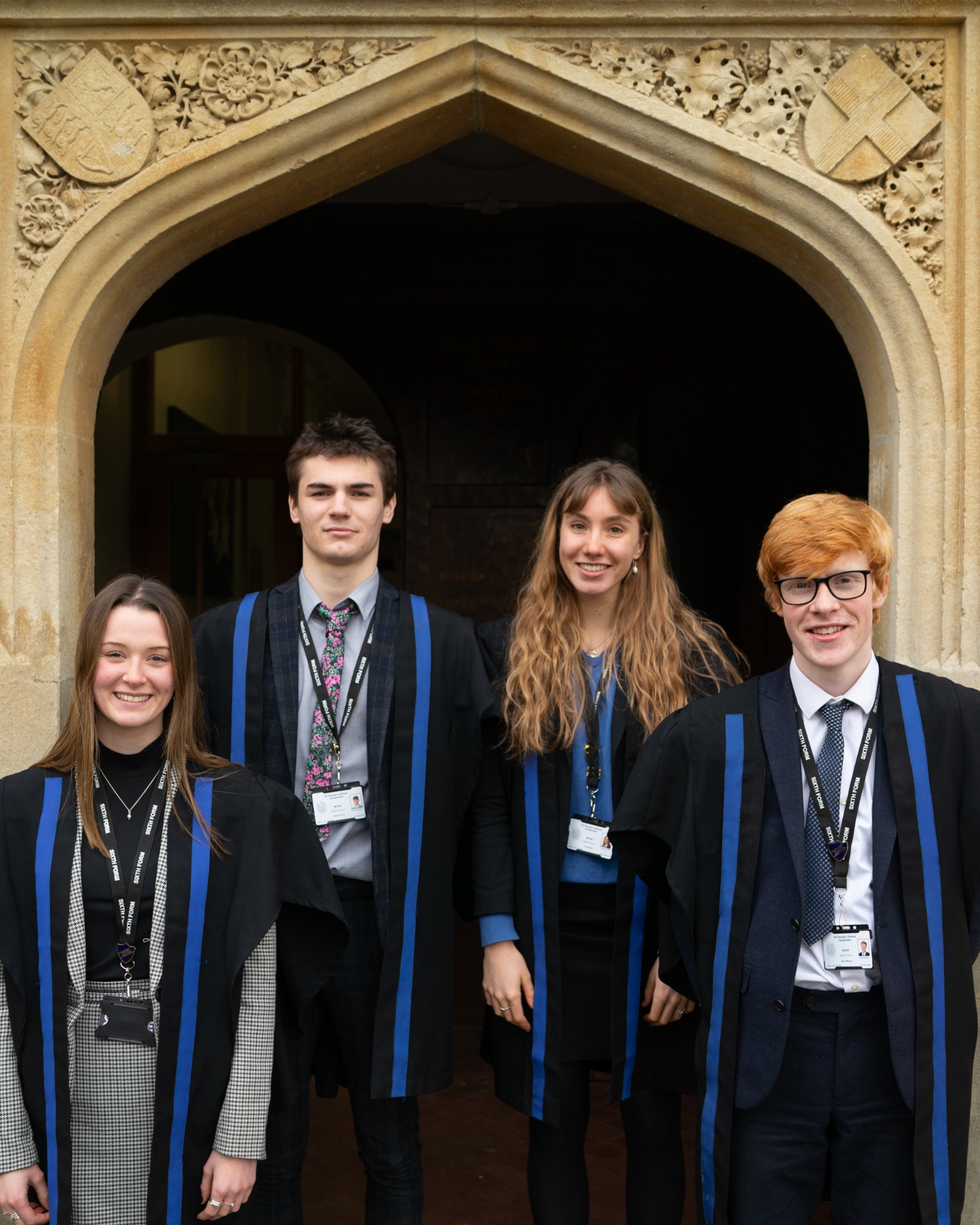 Hello and welcome to Monk house! We are your 4 House Captains Ben, Katherine, Lucy and Sam and we are delighted that you have found your way to, in our opinion, the best house at St George's! With a bit of help from Mr Ede and Miss Smith, we wish to spread our key values around our house and the wider community- these come in the form of self regulation, empathy, resilience and kindness. Inspired by our own pioneer, Bertram Monk who proudly wore his national identity whilst fighting in WW1, we hope that every Monkee at St George's will join us in proudly wearing our blue emblem around school and be inspired to fight for their own community in the Endeavour cup. As House Captains, our role is to inspire and to be inspired by all the talents that the members of our house have to offer and to help each member of our family to flourish to their greatest potential. It is a true honour to be your Monk House Captains.
Goddard House Captains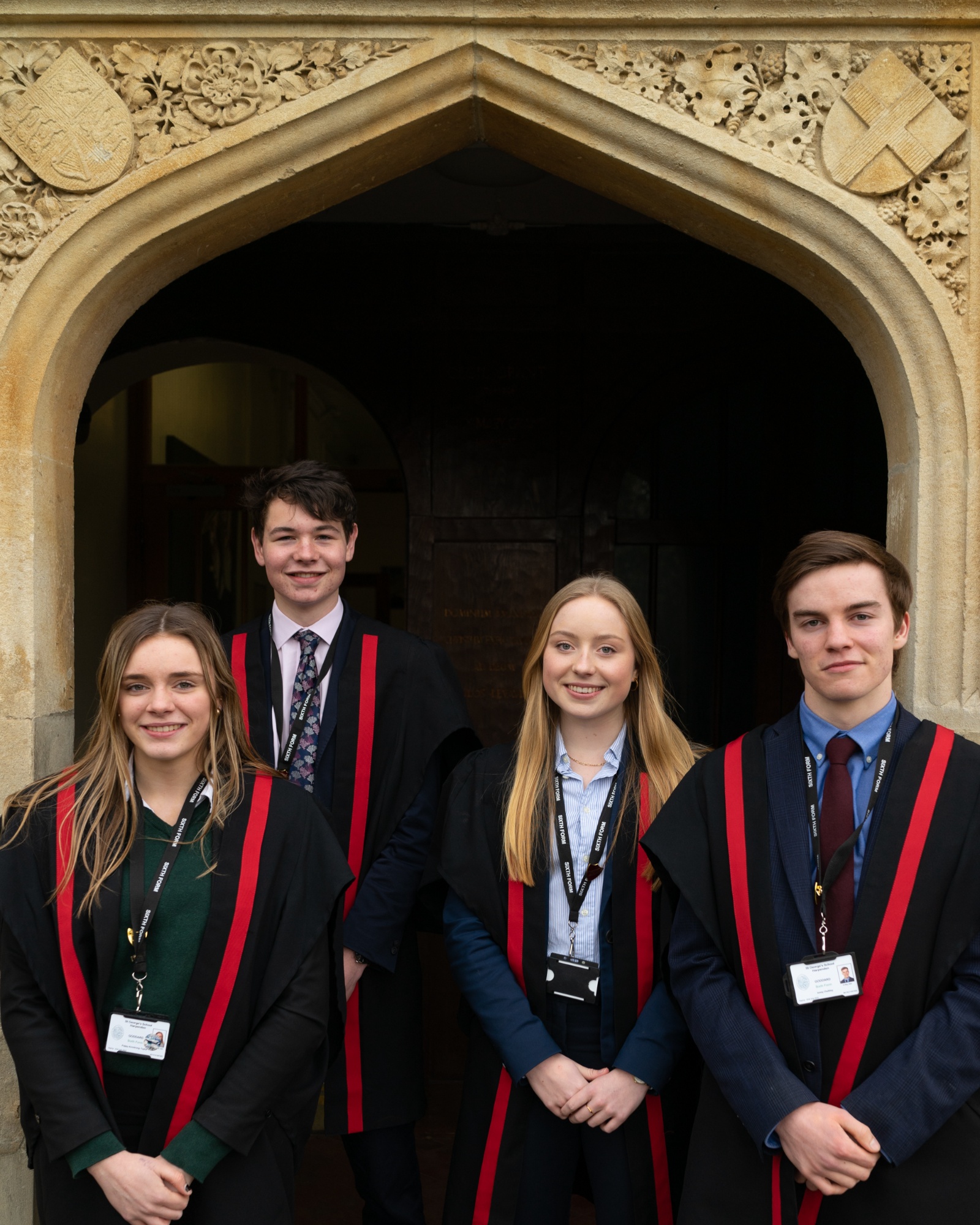 We are Poppy, Dom, Loren and Jonny this year's Goddard House Captains. From leading a section of House Assembly each week to being involved in House Events, we endeavour to include each and every member of the House, from year 7 to year 13. Despite the current pandemic, we have continued to do this, branching out onto different social media platforms, producing videos and content to engage with the students. It is through this united community that we will work as a team, bringing the Gruffalo to victory by winning the Endeavour Cup this year!
Watts House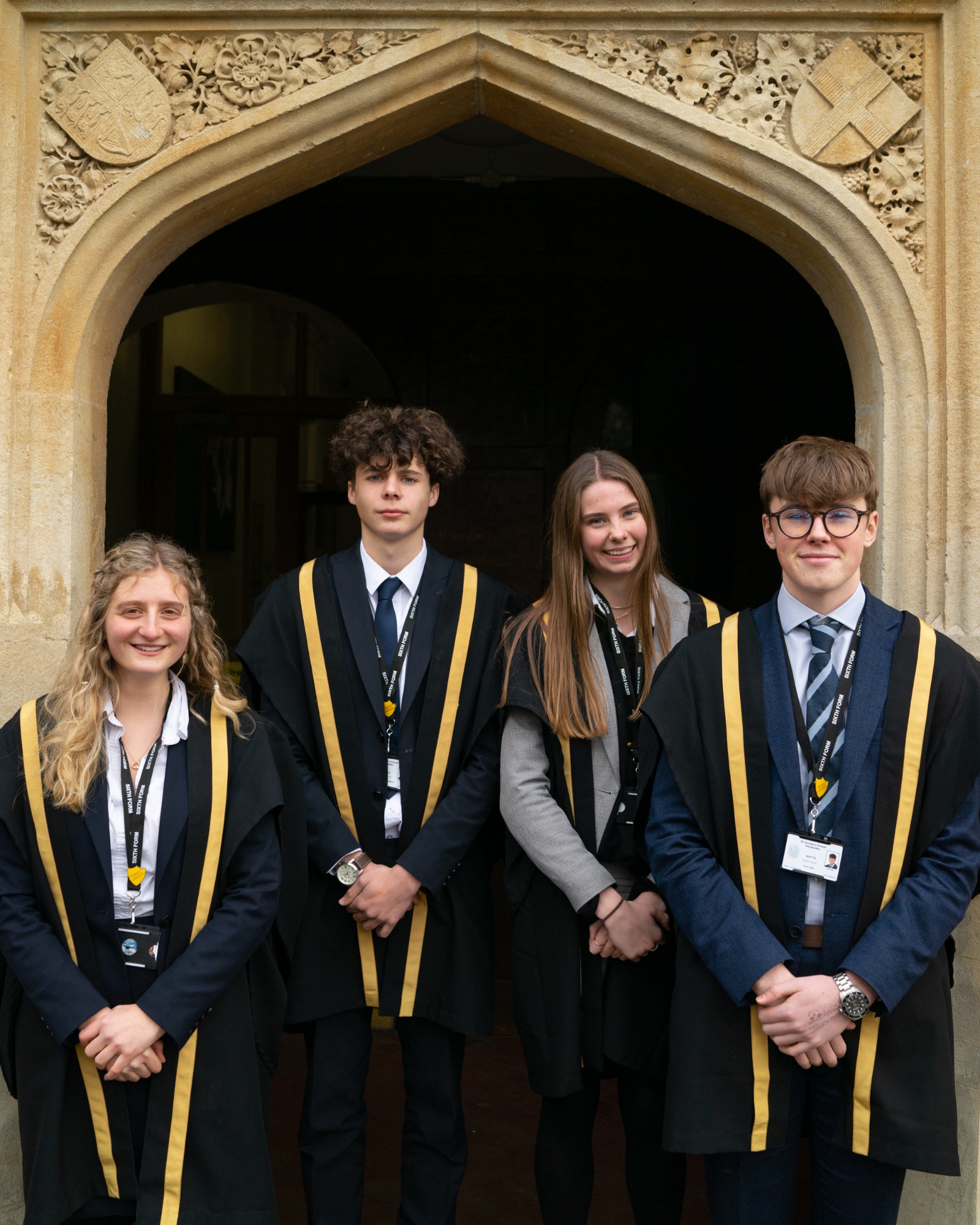 Hi everyone! We are your Watts House Captains for 2021/2022; Rosie, Zoryana, Jay and Harry. We are so excited to be representing Watts this year and can't wait to help each and every Wattonian to get involved at St George's. This year our prefect cohort is amazing; the qualities each person brings to Watts has created a unique team, and we hope we can encourage all Wattonians to get involved and find their place in our thriving community through the extensive amount of exciting house events that St George's offers. We will strive to make Watts a house that will enable new fun opportunities, where everyone feels like they can express themselves individually as well as having a crucial role in the Watts community, giving back to the school.
Grant House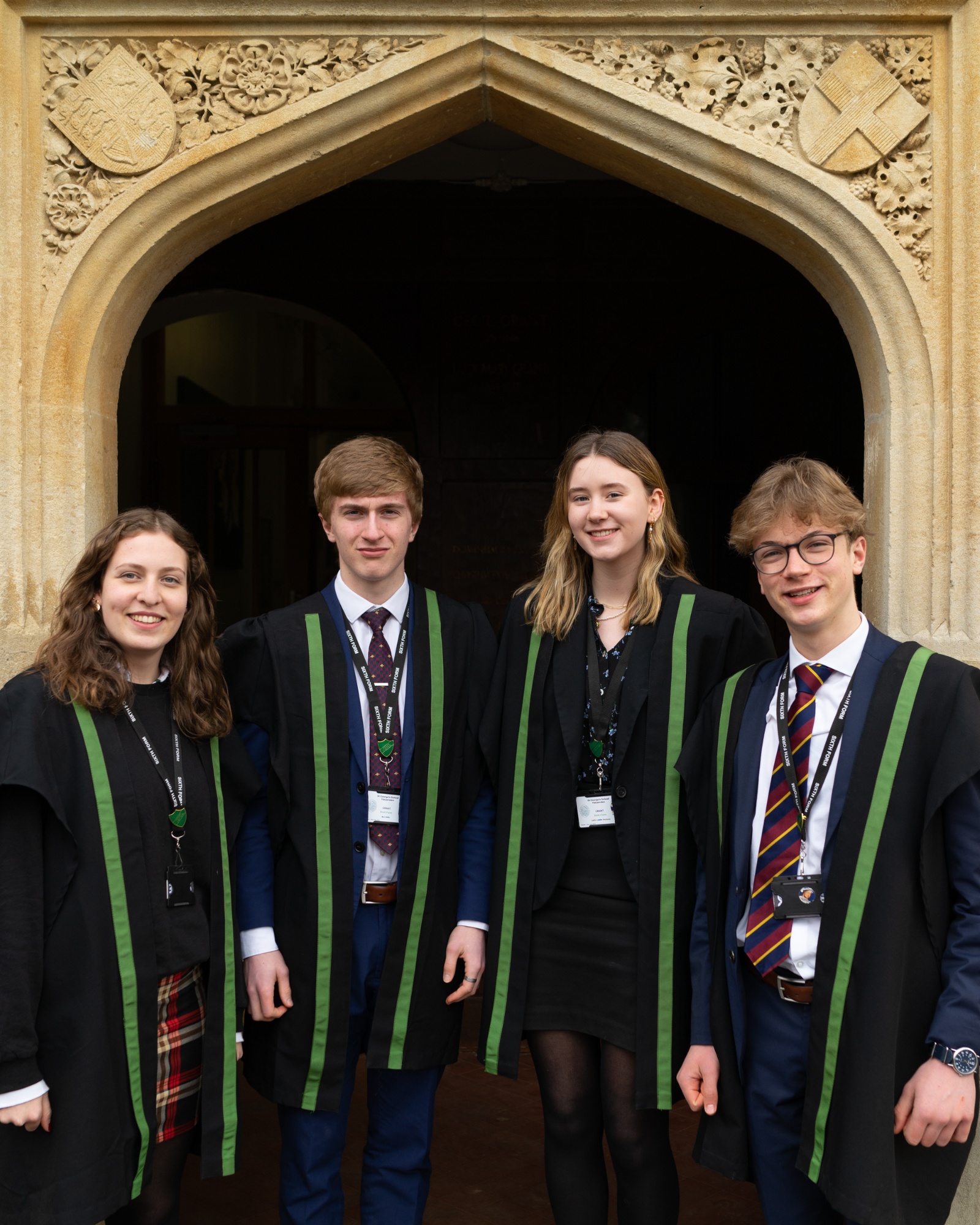 Hello! We are Sam, Natasha, Ben and Caitlin and we are honoured to be your Grant House Captains this year! Endeavouring to make this year another great one for Grant, especially now that we are able to get fully involved in house events and spirit as we come out of Covid-19 times, we are excited to help and support all of our Grantonians to get stuck in. This year especially, we aim to propagate the value of hard work, participation and sportsmanship that makes the supportive family environment of Grant special and hope that this will help make this year a great one for Grant!
Prefects
The Prefects are linked to the House Captains and Deputy House Captains. They carry out duties on behalf of the School, including lunch and break duties and School tours. Prefects head up a specific responsibility area: Social, Charity, Community, Publicity, Development, Promotions.
Sports Captains
Responsible for appointing teams for the House Sporting Competitions. They must also organise practices and ensure that teams play. They also encourage those in the younger years to get involved by giving them opportunities to be a part of House teams or be a part of the practices.
Drama Captains
Responsible for co-ordinating House Drama Competitions, for running a House Drama Club, overseeing the House directors during the House Drama Competition and organising drama for House Assemblies. They also encourage those in the younger years to get involved by giving them opportunities to be a part of drama events including House Assemblies.
Music Captains
Responsible for co-ordinating House Music Competitions, for running musical events and organising music for House Assemblies. They also encourage those in the younger years to get involved by giving them opportunities to be a part of music events including House Assemblies.