Student Leadership
Only a relative handful of our students receive the rewards of leadership. St George's has such a high calibre intake of prospective leaders and highly responsible students that selecting a few for "Prefectship" or House or School Captain, is always a tough decision, inevitably leaving perfectly able students disappointed at their lack of appointment.
New to St George's? Do not despair at gaining status! Annually, many new Georgians have been made Prefects, House Captains, School Captains or Deputy School Captains, Boarding Prefects or Boarding Captains! Be pro-active, join in!
The roles comprise of:
School Captains
The School Captains represent the Headmistress and her deputies in a range of ways. This may include making speeches at Open Evening, giving votes of thanks to visitors, reading in Chapel, delivering Assemblies, representing the Headmistress or the student body and organising whole School events, such as Education for Africa Day.
School Captains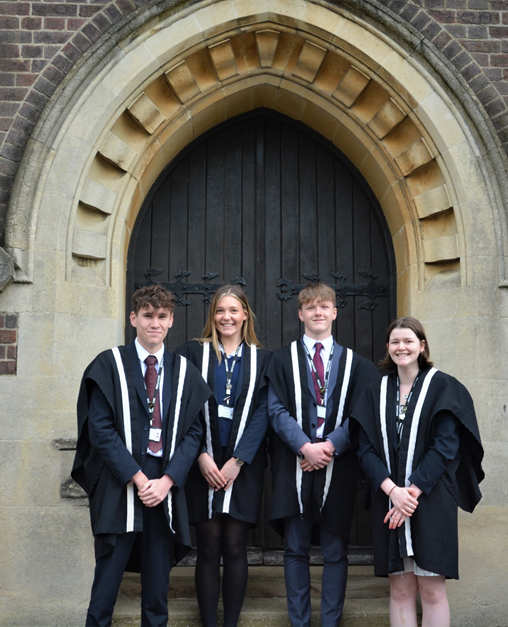 Alice
Hello Everyone! My name is Alice and I have the great privilege of being one of St Georges' school captains for the 2023/2024 academic year. I currently study History, Economics and Politics- and am interested in doing a degree in history or PPE after sixth form.
I feel so grateful to have been given this opportunity to represent the student body and to have a chance to help shape a school which has had such a big role in shaping who I am today. Throughout my six years here, I have learnt the importance of pushing myself out of my comfort zone and taking up new opportunities.
It is important to me as a school captain to embody the key value of the school to 'aim higher' and encourage my fellow students to do the same.
I look forward to working as part of a team with Sarah, Seb and Billy, but also alongside the house captains and amazing prefect team of 92!!! I hope that throughout our tenure we will be able to have a positive lasting impact on our school community, and many future generations of Georgians, for years to come.
Seb
Hi, my name is Seb. In my 6 years at this school I have been able to witness first hand the effects of this school community, and now being able to represent it I feel truly blessed.
St Georges is defined by its student body and therefore as a team we aim to realise the power of this community, combining St Georges tradition with inclusivity to celebrate each and every student for the unique set of skills that they hold. Personally, I aim to dedicate time to support the community, aiming to be an approachable familiar face to all in order to bring up those around me.
I am excited to be working with Alice, Sarah and Billy for the next year and can guarantee that in the after-school cake fuelled meetings, frantic group chat exchanges and late night planning that the role entails, we will put the student body first and foremost in all decisions. There is so much we aim to do over the upcoming year; to give back and have a lasting impact on a community that we treasure is our combined goal.
Sarah
Hi Everyone, my name's Sarah and I'm currently studying History, Geography and Maths. I've been at St George's since year 7 and am looking forward to being one of your school captains this year. From the beginning of my St George's journey in year 7 I have looked up to the prefects, now I can't quite believe my journey here is almost at its end! As school captain I hope to inspire younger students in the same way that I was by my predecessors. From acting as a liaison between pupils and staff to making lots of spreadsheets and google docs (much to the other captains' dismay), I hope to use my skills to serve the community.
St George's is a school with something for everybody and I'm looking forward to getting outside my comfort zone by participating and running activities I wouldn't have pictured myself doing 6 years ago. In the future, I want to venture into a career where I can help people and make a positive difference in their lives. At the moment my role as school captain is my way to make a positive difference in this community. I'm looking forward to working with the entire prefect team and building on everyone's strengths to make a good impact on the school community. We have an exciting year ahead of us and I know Seb, Alice, Billy and I will work effectively together and strive to be the representatives of the school that this amazing student body deserves!
Billy
Hi everyone, my name is Billy and I have been given the great privilege and responsibility of being a School Captain for the upcoming year. I am greatly looking forward to the year ahead and working with not only Alice, Sarah and Seb, but also the House Captains and their prefect teams. I'm taking Maths, Economics and Spanish A-Level and hope to study International Economics at university. I am very grateful for all the opportunities and experiences St. Georges has given me and intend to give back to the community which has helped shape me. Having never lived in the UK until I began boarding, I soon became aware how the strong connection between students is at St George's, which resembles that of a close-knit family and led me to feel a real sense of community. I want pupils across the school to be able to feel that same connection with me. I plan to be a familiar face around school - someone who all pupils feel comfortable approaching and talking to about absolutely anything. I hope that throughout our tenure as school captains we can achieve our common goals and inspire generations of Georgians to come.
Boarding Captains
Boarding Captains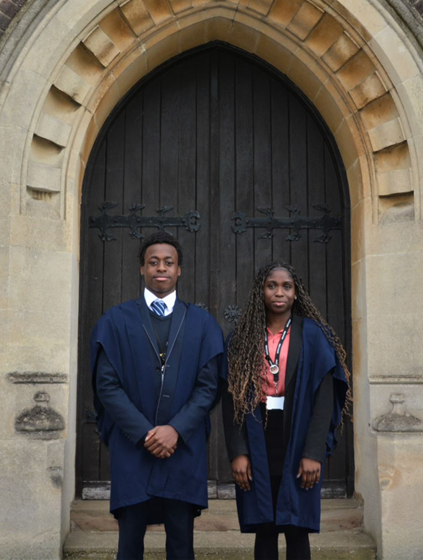 Hello! We are Dabira and Christian, and we are your 2023/2024 boarding captains.
As your boarding captains, we are here to guide, listen to and serve the boarders, as they pave their way through their school journey and most importantly, their boarding life. In order to ensure that the boarding community thrives, prospers, and that every border is given an equal chance to grow as an individual.
We are pleased to be your boarding captains for the forthcoming academic year and we anticipate what opportunities this journey will bring.
House Captains
Linked to the Head of House, House Captains are the public face of the House. They assist the Head of House in a range of activities. This may include monitoring Prefect duties and the work of the responsibility system, undertaking book looks and Prep book checks, distributing School and House office materials, completing office administration information, helping to organise House Assembly with the Head of House and representing the House at School functions.
Deputy House Captains deputise for the House Captains and will take on similar duties. They may also help to manage the House office preparing House lists, filing, assisting with typing, updating the House notice boards overseeing the organising of the locker system, taking minutes of meetings and a range of other tasks. House Captains and Deputy House Captains make up the House Senior Team
Monk House Captains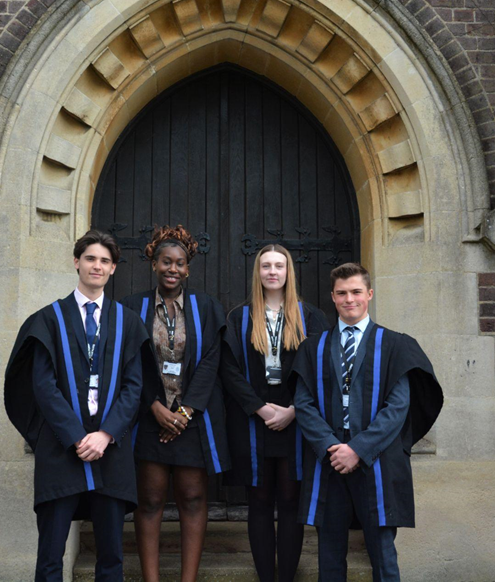 Hello, we are your Monk House captains; Sarah, Connor, Katie and Ben. We are extremely grateful and excited to work together as a team over the next year and represent Monk House to the best of our ability. Being part of such a community like Monk means we pride ourselves in being kind to others whilst at the same time being able to push each other to be the best that we can be and to be a good representation for our House. We hope to support and guide the younger years with any challenges they may encounter, being an approachable face that they can always talk to. Most importantly we hope that we can inspire them and the rest of the school with the Monk spirit and we can't wait for what's to come!
Goddard House Captains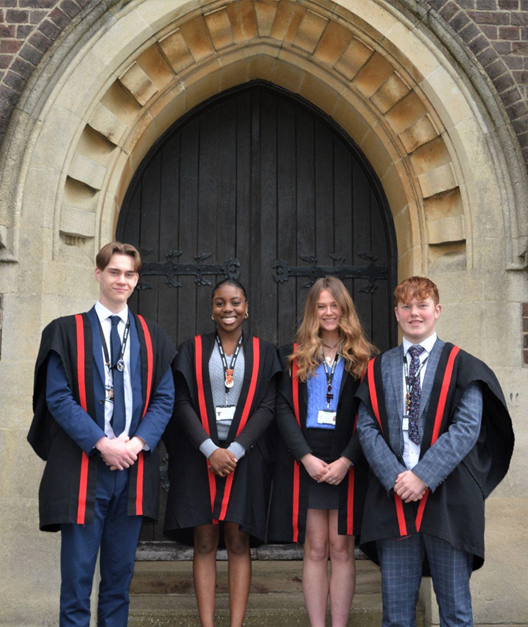 Hello! We are your Goddard House Captains: Marcus, Gideon, Fara, and Darcey. We're super excited to be able to serve the school, and are very much looking forward to representing Goddard in every possible way that we can throughout the rest of our St George's school careers. Goddard House is an exceptional community consisting of a wide range of talented people where we, as House Captains, will continue to strive to make students feel that they can express themselves and perform to the best of their ability, whether it be through their academics, drama, sports or music. We each look to continue to hold the title of the Endeavour Cup winners. Go Goddard!
Watts House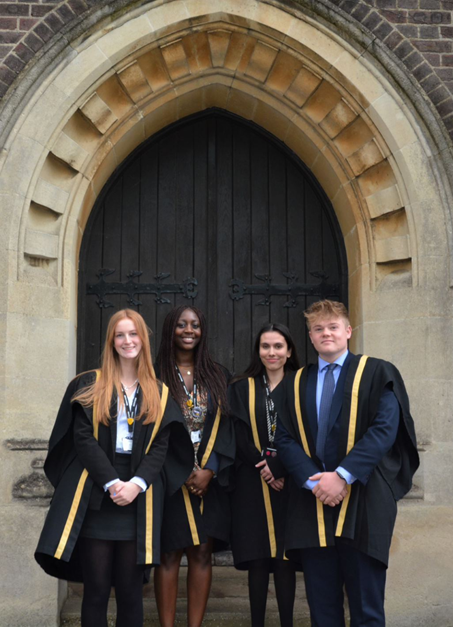 Hello everyone! We are Ameera, Giselle, Toby, and Gracie, and we will be your Watts House Captains for 2023-24. In this position, we are honoured and delighted to be representing Watts House, not only in our journey to reclaim the Endeavour Cup once again but also in our journey to explore and enhance our characteristics both collectively and individually. Not only are we here to be leaders, but we are also here to help and encourage the younger years to embrace our House spirit across the academic year in the annual house events. To all the Lions and Lionesses, we hope to strengthen the unity within Watts House as our own little team, in addition to our large and big-hearted family!
Grant House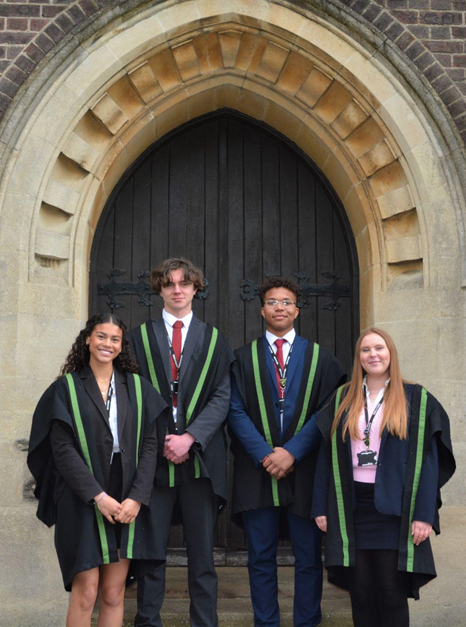 Hi, we're your grant house captain for 2023-24! We are Ruby, Sophie, Johnny and Adam and we are so grateful to be your Grant house captains. We hope to represent you and inspire others to go outside of their comfort zones. We are so excited to work with our wonderful prefect team to keep our house fun and organised for this year. We hope our team spirit and hard work can take back the endeavour cup for our house this year as we are heading to the top. It is a privilege to be your Grant House Captains and serve the community.
Prefects
The Prefects are linked to the House Captains and Deputy House Captains. They carry out duties on behalf of the School, including lunch and break duties and School tours. Prefects head up a specific responsibility area: Social, Charity, Community, Publicity, Development, Promotions.
Sports Captains
Responsible for appointing teams for the House Sporting Competitions. They must also organise practices and ensure that teams play. They also encourage those in the younger years to get involved by giving them opportunities to be a part of House teams or be a part of the practices.
Drama Captains
Responsible for co-ordinating House Drama Competitions, for running a House Drama Club, overseeing the House directors during the House Drama Competition and organising drama for House Assemblies. They also encourage those in the younger years to get involved by giving them opportunities to be a part of drama events including House Assemblies.
Music Captains
Responsible for co-ordinating House Music Competitions, for running musical events and organising music for House Assemblies. They also encourage those in the younger years to get involved by giving them opportunities to be a part of music events including House Assemblies.