St George's Music Society Choir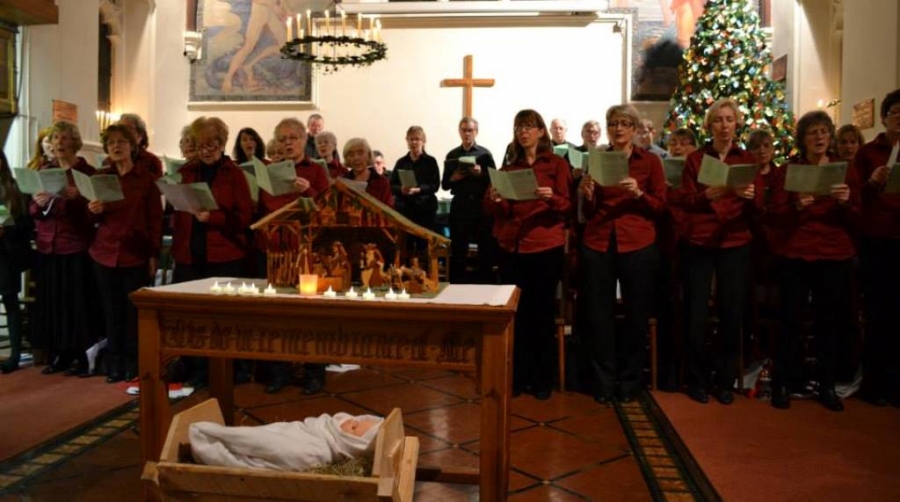 St George's school has a long and established tradition for promoting choral music. The inter-house music competition, Sunday and weekday Chapel services and concerts all provide opportunities for students of all ages to sing throughout the year. Did you know that in the 1960's the Music Society Choir was created to offer parents, staff and students the opportunity to join a choir and sing in an annual concert?
Who?
The St George's School Music Society Choir is a mixed, 4-part choir with a current membership of around 35 singers made up of former students, staff, parents of current and former students and friends who just want to come and sing.
We are always keen for new members to join and whilst an ability to read music would be useful, don't worry….there's no audition!
Where and when?
The choir rehearses in the school Chapel on a Tuesday evening from 7.45pm until 9.00pm
Repertoire and Events
The choir has an annual concert in May where there is the opportunity to perform a larger scale choral work. The choir also sings at several services throughout the year such as a requiem communion for All Souls, the Georgian Carol service and choral evensong.
Here are some examples of some recent repertoire that the choir has performed:
Chilcott- Requiem, Little Jazz Mass and Aesops Fables, Haydn- Little Organ Mass
Jenkins- The Armed Man, Monteverdi- Beatus Vir, Rutter- Requiem and Mass of the Children,Schubert- Mass in G, Vivaldi- Magnificat
Contact
If you require any other information please contact the choir's musical director Russell Tucker at rtucker@stgeorges.herts.sch.uk or just come along to the Chapel on a Tuesday evening.